Tales of Peter Potter
List price:
£12.99 (But special offer available from this site).
Attributes:
Paperback, 294 pages with 75 black and white illustrations and 6 maps. Laminated full colour cover. Dimensions approx 212mm x 148mm x 18mm, 470g
Availability:
First Edition published 16th May 2017. RRP £12.99. Available here for only £11.00 including postage to UK, signed by Hugh. Also very limited stock signed by the late Peter - please enquire.
Synopsis: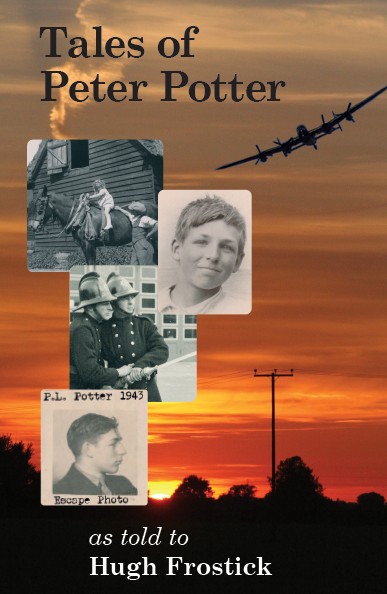 Peter Louis Potter shares his eventful life from "clodhopper to cloud-topper and fire-stopper". His revealing and sometimes risqué tales range from Essex farming and village life, wartime service on Lancaster bombers, working in a mental asylum, and as a fireman in Colchester.
Never short of an idea for a laugh or an adventure, and often bending the rules, Peter gives a wonderful feel for how he and his family lived and worked at Fobbing on the Essex marshes and the industrialised Thames, and farming near Colchester at Easthorpe, Fingringhoe and Mersea Island.
When war came, Peter ran away from home to volunteer for RAF Bomber Command, leading to many exciting episodes in Churchill's Secret Army and as a Lancaster rear gunner.
Peter's skill as a raconteur has been well captured by Hugh Frostick. This highly entertaining account gives a fascinating insight into life and war in the 20th Century.
Peter Potter now lives in Elmstead Market and is a regular attendee at Boxted Airfield Museum, where he was stationed just after the war, as part of RAF liaison to hand over the station from the USAAF.
Peter celebrated his 93nd birthday on 30th May 2018! Click here for a picture of him taken a few weeks before, with his Legion d'Honneur award.
UPDATE: Sadly Peter passed away in October 2019, aged 94.
Chapters:
Shattered
A childhood on the marshes
Work and play around Fobbing
School days
Farming ways
My pets and other animals
A real farm at Easthorpe
Taking to the skies
Back to the marshes at Fingringhoe
The Connie Kent mystery
Running away from home
The Home Guard
Our part in Churchill's Secret Army
RAF call up and training
My Air Crew and Lancaster bombers
626 Squadron at RAF Wickenby
Some operational procedures
Our Erks and Lancs
My Tour of Operations
Crew disbandment and extended leave
Flying Control duties
RAF Boxted to demob
On two wheels and four
Nursing - giving something back
From birds and bees to marriage
Marooned by mud on Mersea Island
American friends and police attention
Hard winters and the 1953 floods
Putting out fires
An obsession with pigeons
From entrepreneurship into retirement
Whatever happened to...?
Appendix: List of 626 Squadron Ops