Rockfist gets his Wings
List price:
£12.99 (Special offer available from this site)
Attributes:
Paperback, 254pp with 195 black and white illustrations and 5 hand-drawn maps. Dimensions approx 216mm x 148mm x 15mm, 396g
Availability:
First Edition published 26th August 2018. RRP £12.99. Available here for only £9.99 including postage to UK. Option for book signed by authors (Ralph and/or Hugh). 
Synopsis: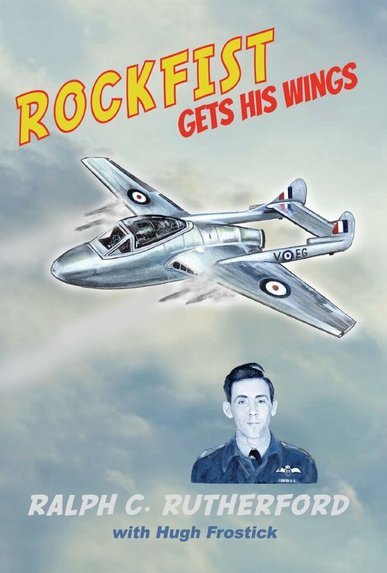 This is the tale of Ralph "Rockfist" Rutherford and the hoops he jumped through to get his pilot's wings like Rockfist Rogan, his comic book schoolboy hero.
Ralph was keen to do his bit for King and Country. Hoping to be a pilot, he joined the RAF towards the end of WW2. It turned out that air gunners were needed more urgently by that time so he switched roles. He saw the war out "bombing-up" Lancasters at RAF Fiskerton. Then, after completing his training to serve as a tail gunner on Avro Lincolns, Ralph was recalled to pilot training at the dawn of the jet age.
He had two prangs at pilot school (not his fault!) before attending the new "Jet School" at Driffield to fly Gloster Meteors and de Havilland Vampires. A Cold War posting to Germany was a thrilling time, stationed close to the Iron Curtain, and it was there he met the love of his life who became his wife.
This, the third in a series of RAF memoirs retold by Hugh Frostick, is an open-hearted account including Ralph's upbringing in rural Northumberland and industrial Tyneside. The story will raise a few eyebrows and some good laughs, as well as sadness about the colleagues lost in flying accidents.
Chapters:
Chapter 1: Flash, bang... wallop?
Chapter 2: Northumberland farmers
Chapter 3: Geordie boy on Tyneside
Chapter 4: Pop Finlay and other relatives
Chapter 5: Dragged out of school
Chapter 6: My first employment
Chapter 7: Rockfist signs for the RAF
Chapter 8: Initial training at Cannock
Chapter 9: Held at Bridgnorth
Chapter 10: Bombing up at Fiskerton
Chapter 11: Isle of Man Air Gunnery School
Chapter 12: Struck by the weather
Chapter 13: Rear gunner in 61 Squadron
Chapter 14: A couple of prangs at pilot school... Wings at last!
Chapter 15: Jet School at Driffield
Chapter 16: A Cold War posting to RAF Gütersloh
Chapter 17: Meeting Mollie
Chapter 18: RAF Sylt weapon training
Chapter 19: Weather, a wheels-up landing and more sad losses
Chapter 20: Operation Rainbow and Americans
Chapter 21: RAF Celle and the Staines raid
Chapter 22: Towing at Acklington until Demob
Chapter 23: Mollie's lot from Suffolk
Chapter 24: Lois, Max and Crumpy
Chapter 25: Mother, Sep and my half-siblings
Chapter 26: Teacher training
Chapter 27: A teaching career
Chapter 28: Stowmarket school & field trips
Chapter 29: A broken neck in retirement
Chapter 30: Goodbye, my love