Mister Lucky
Attributes:
Paperback, 152pp with 116 black and white illustrations and 2 maps. Dimensions approx 210mm x 148mm x 10mm, 245g
Availability:
First Edition published 15th December 2017. RRP £10.99. Available here * LIMITED STOCK REMAINING * for £16.00 signed by Ivan (and Hugh if desired) including postage to UK.
Synopsis: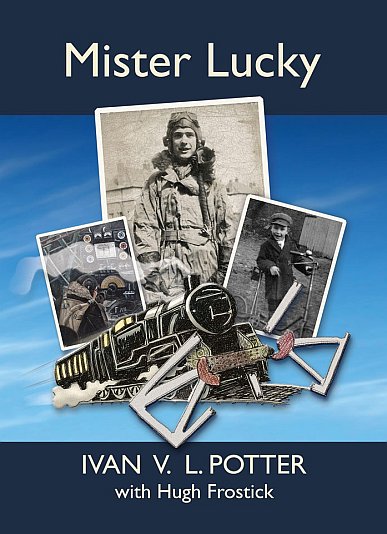 A bridge collapses before him…
a child is thrown from carthorse into a pond…
near-castration by bicycle…
a Wellington bomber is written off…
Ivan Potter loves telling stories about his childhood and war service, demonstrating Secret Army equipment at Duxford and Parham Museums, and reliving railway escapades with his brother. When he began to commit his tales to paper, he realised just how many lucky escapes and coincidences had helped him to reach old age, and this is what gave him the title for this book. Ivan is a Suffolk farming lad who got caught up in the Second World War. He did war work in an Ipswich factory, then joined the Belstead Home Guard where he was one of six young men who volunteered for a mobile squad with special training and a secret hideout in Bentley Woods.
Ivan volunteered for the RAF and completed training as a wireless operator and air gunner on Wellington and Lancaster bombers. Following a brush with RAF authority, Ivan was lucky enough not to be sent to probable death on Operations over Europe when the war came to an end.
Then followed a long career on the railways of East Anglia of which he loved every day as a plate layer, shunter and then freight guard, which amongst many things involved a near disaster when shifting bombs from the redundant air bases.
Hugh Frostick has crafted 93-year-old Ivan's many escapades into this biography, with many a laugh to be found along the way, making a most entertaining story of a long and happy life.
Chapters:
Foreword by Jim Betteridge
Preface: An introduction to Mister Lucky
Chapter 1: Some family background
Chapter 2: Childhood on the farm
Chapter 3: School days
Chapter 4: Helping Gran to make ends meet
Chapter 5: Into long trousers
Chapter 6: War work at Ransomes & Rapier
Chapter 7: The Home Guard and Secret Army
Chapter 8: The ATC and desire to fly
Chapter 9: RAF Air Crew training
Chapter 10: My crews, and a spell in the "glasshouse"
Chapter 11: Post war and demob
Chapter 12: Sally and Sonia
Chapter 13: On the railways, ganging and shunting
Chapter 14: On the railways, guarding the trains
Chapter 15: Burning the candle at both ends
Chapter 16: My brothers, Stan and Mick
Chapter 17: Motor Mad
Chapter 18: Losing Dad, and Mother's secrets
Chapter 19: Fishing and other pastimes
Chapter 20: Making things
Chapter 21: The ACA and lovely companions
Epilogue: The End?