Welcome to Frostick Publishing
Frostick Publishing is a small and friendly authoring and publishing service. We can typeset your own book for printing, help with editing or proofreading, or we can author and research your entire book for you. We specialise in gently coaxing brilliant, long-forgotten stories out of older folk!
Proprietor Hugh Frostick (B.Sc., Ph.D.) is a local historian interested in the villages in the Tendring Hundred District of North East Essex, near Colchester. He is also a volunteer researcher for the Coleshill Auxiliary Research Team (CART, to be found at www.staybehinds.com) because his father was a member of Churchill's Secret Army.
Hugh did not set out to specialise in military topics but has had an enduring interest in how the people of the British Empire and their allies rallied together to get through the Second World War. Word-of-mouth within veteran circles, following some successful R.A.F. publications, has generated a flurry of new stories in the pipeline!
Please contact us for a chat with no obligation.
Titles currently available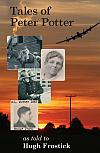 Tales of Peter Potter
is the story of a Lancaster rear gunner who was also seconded by his father into Churchill's Secret Army. This is not just a war story by any means, as the books is packed with fascinating memories of Essex farming life before the war, and the Great Floods after it.
---

Mister Lucky
tells of all the lucky escapes that helped Ipswich man Ivan Potter to survive childhood, the war as a factory worker and then as a Wireless Operator on Wellington bombers, and finally as a freight guard on the railways of East Anglia. (Ivan is no relation to Peter!)
---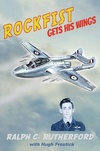 Rockfist gets his Wings
tells how Ralph Rutherford grew up in the North East, became a rear gunner for Avro Lincolns but then qualified to be a jet pilot. He flew Vampires in Germany at the height of the Cold War and was involved with or was onlooker to many unfortunate incidents.
---