Welcome to Frostick Publishing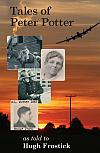 Frostick Publishing is a small, friendly authoring and publishing service. We can typeset your own book for printing, help with editing or proofreading, or we can author and research your entire book for you. We specialise in gently coaxing brilliant, long-forgotten stories out of older folk!
Proprietor Hugh Frostick (B.Sc. Hons, Ph.D.) is an amateur local historian, interested in the villages in the Tendring Hundred District of North East Essex, near Colchester. He is also a volunteer researcher for the Coleshill Auxiliary Research Team (CART www.coleshillhouse.com) because his father was a member of Churchill's Secret Army. Hugh does not particularly specialise in military topics, but has an enduring interest in how the British people and their Colonial comrades rallied together in the Second World War. Word-of-mouth in veteran circles following some succesful publications has generated a flurry of R.A.F. stories in the pipeline!

Frostick Publishing gladly uses CZ Design & Print, Bishops Stortford, for all our softback printing needs. We take any potential stress out of this process by liaising direct with the printers with whom we have an excellent working relationship.
Please contact us for a chat with no obligation.